Aftermarket Truck Hoods at Milford Auto & Truck Parts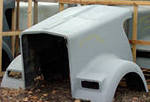 Truck hoods specialist, Milford Auto and Truck Parts is one of North America's fastest growing suppliers of quality aftermarket truck parts.
Milford Auto & Truck Parts provides several services, and carries a large inventory of aftermarket truck hoods and other truck parts. Our skilled automotive professionals can help you find the truck parts you need.
Our aftermarket truck hoods inventory covers most makes and models and
Please click on the links above for more information.